Bed Bug Infested Laundry Services
Contrary to common belief, a bed bug infestation can stretch far beyond the bed. Bed bugs live and hide all over your house or apartment. Dressers and closets offer an ideal dark hiding spot for bed bugs to harbour. Unfortunately, this means that bed bugs commonly live in and amongst our clothing! If clothing is not washed and segregated, surviving bed bugs will reproduce leading to reinfestation. Let Extreme Cleanup Inc. take care of your bed bug infested washables.
Exterminators DO NOT:
Treat common bed bug hiding spots such as dressers and closets, if they are full of clothing.
Treat the clothing itself, which may in fact be harbouring bed bugs/bed bug eggs.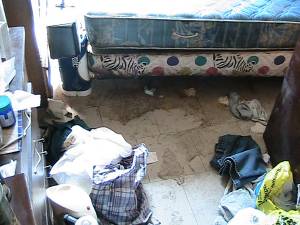 Extreme Cleanup WILL:
Seal and label your laundry bags accordingly.
Clean the laundry off-site combining special soap with high temperature washers and dryers.
Place the clean laundry into fresh clear plastic bags, affixing the corresponding label.
Deliver your clean, bed bug-free laundry back to the premises.
Place the bags in the middle of the room, thus allowing the exterminator to effectively treat the perimeter of the room.
At Extreme Cleanup, we respect your property and take great care in its handling, from start to finish!