General Junk Removal
Extreme Cleanup is a full-service junk removal company proudly serving Toronto and the GTA. Our professional, reliable, courteous staff will take care of your junk problem from booking to cleanup. We deal exclusively with residential junk removal, so if you live in:
An apartment
A condominium
A townhouse
A home
Our team has the equipment, experience, and muscles to get the job done safely and cleanly. We are fully licensed with the Ontario Ministry of Environment as an authorized waste hauler. Once your junk is removed from the premises, it will be loaded into our truck and hauled to an authorized disposal facility. Our workers wear a protective covering on their boots to protect your flooring. As a guest in your home, we take the privacy and respect of your property very seriously. Call us to remove the following common household items:
Appliances
Furniture
Electronics
Mattresses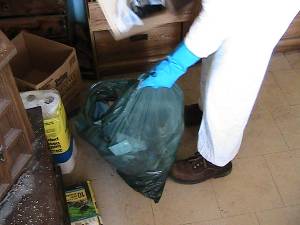 If you have old clothing, towels, or winter apparel that can be donated to a new home, we will ensure that it gets to the right organizations. With the environment in mind, our green practices see that all recyclables are taken to the right facilities. Grass clippings, hedge trimmings, and other yard waste is discarded by our team in an ecological fashion. We make a concerted effort to reduce the amount of waste that ends up in the landfill!
Let our team at Extreme Cleanup declutter your life! We do all types of residential junk, rubbish, trash, waste, and garbage removal. The area will be tidied and swept upon completion of the job; you won't even know we've been there (except for your missing junk!). Need an area of your home deep cleaned, sanitized, and deodorized? We do that too! We do junk removal from every area of your property, including:
Garages
Basements
Attics
Sheds
Closets
Calling all real estate agents, mortgage brokers, and property owners! If you are currently managing foreclosures, power of sales, abandoned properties, and other distress sales, we can work with you to get the property ready for the market. Let us haul all the garbage away, tidy up the property, clean, sanitize, and deodorize the dwelling. Our complete services can take property from regrettable to immaculate in a matter of hours!
Free quote (416) 578-9071
Please contact us for information regarding our services or to receive your free quotation.
Or e-mail us for information at
service@extremecleanup.com